Product
: Organic Root Stimulator's Nature's Shine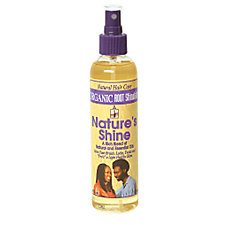 Ingredients:
Coconut Oil (Cocos Nucifera), Soybean Oil (Glycine Soja), Cyclomethicone, Kukui Nut Oil (Aleruites Moluccana), Essential Oils of Lemon (Citrus Medica Limonum), Bergamot (Citrus Aurantium), Spearmint (Mentha Viridis), Fragrance (Parfum).
Claims (as stated on the bottle):
A rich blend of Natural and Essential Oils. Gives your braids, locks, twists, and other natural styles a light healthy shine. Great for the body too!
Where to buy it:
local beauty supply stores, Sally's, some drug stores, Amazon.com. Visit their
website
to find a featured vendor near you.
First Impressions:
This oil is very light feeling. I sprayed it on my hand and it did not feel as heavy as olive oil; it sort of soaked into my skin and left my skin with a nice shine without making it feel greasy. The smell is pleasant without being overbearing.
On Ally's hair:
(Type 3b and 3c curls)
I originally purchased this product to help maintain Ally's box braids, shown
here
. Right away I loved the way her hair looked moisturized but not greasy, with just the right amount of shine. I sprayed the oil in between her box braids, using it as a kind of leave-in conditioner for her scalp. Ally has a chronic dandruff problem, and most oils make her hair appear to be dandruff free directly after application, but once the scalp dries, the dandruff is back. Not with this product. While in a braided style, I spray Ally's hair with this product every other day, and there is absolutely no dandruff. This is more than a little bit exciting to me. :)
On The Princess's hair:
(Type 2-something waves)
It is VERY difficult to find an oil that is not too heavy for the Princess's wavy hair; I don't like greasy hair and most oils make her hair feel that way. I saturate her hair with olive oil before I wash it, but even using olive oil as a leave-in makes her hair feel heavy and gives it a dirty look, in my opinion. This product is different, in that aspect. I spray it on The Princess's edges, where her scalp is most sensitive, and massage her head once or twice a week. What I have noticed since I've started doing this is that her hair is becoming less frizzy and I have to apply less product to maintain her hairstyles. In short, it REALLY works well as a leave in, and is a great oil to use during scalp massages.
On Li'l Bit's hair:
(type 4a-ish coils)
Li'l Bit's hair loves thick products. Heavy creams and oils normally work best on her hair. I began using Organic Root Stimulator's Nature's Shine on her hair about 4 weeks ago, and just like on my other girls' hair,I use this product on Li'l Bit's hair when it is in braids or twists. It doesn't work as well alone as a leave-in like it does in The Princess's hair, but it does add a nice light shine to her braids and scalp when we are on the go and don't have time to do a thorough conditioning.
On Skin:
This product claims that it is works great on the body. I put it to the test by spraying a bit of it on my arms and used it daily for 1 week as a moisture sealant after showering. My skin is not incredibly dry, and it was a bit too thick and oily for my skin when used this way. Maybe for someone with drier skin would benefit more from using Nature's Promise in that way.
I then used the product as a bath oil. While my bath water was running, I took the top off and poured a little less than a quarter cup of the oil into the bathtub under the running water. The result was a much after water that left my skin feeling silky and smooth afterwards.
Summary/My Opinion:
Organic Root Stimulator's Nature's Shine worked best on Ally's type 3 hair and The Princess's Type 2 hair. It is a great moisturizer for braids and twists, and all of my kids' scalps reacted positively to this product. While Li'l Bit's hair benefited from the occasional spray here and there for on the go conditioning and shine, it was not heavy enough to properly condition her type 4 coils for an extended period. As far as skin is concerned, it may work well as a moisture sealant for those with dry skin, but it was too heavy for my combination oily/dry skin. I loved it as a bath oil, though!
All in all, this product does EXACTLY what it claims...it adds great shine to twists, locks, and braids. Definitely a staple in my hair care arsenal now.
I also love the fact that the product is almost completely natural, and I can actually read the majority of it's ingredients. The one ingredient that I could not pronounce, CYCLOMETHICONE, I looked up
on this very informational website
that I use as a reference for providing me with an explanation for any crazy sounding ingredients before I expose my family to them. According to this website, cyclomethicone is a silicone-based product that can be used for hair-conditioning. In case you were interested.
Please note: I purchased this product with my own money and was not compensated in any way for this review. The opinions expressed in this review are my own, your results may vary.